Arday lagu soo oogay dacwadda weerarkii masaajidka Kanada
Booliiska dalka Kanada ayaa dacwad ku soogay arday asalkiisu Faransiis yahay oo dhalashada Kanada haysta kaas oo loo haysto lixdii ruux ee muslimiinta ahaa ee lagu dilay iyaga oo ku cibaadaysanaya masaajidka Quebec.
Alexandre Bissonnette ayaa wajahaya lix dacwadood oo dil ah iyo shan dacwadood oo isku day dil ah.
Wiilkan 27 jirka ah ayaa si kooban uga soo muuqday maxkamadda Quebec Axaddii isaga oo loo haysto weerarkii Axaddii dhacay Xarunta Islaamka ee Quebec.
Kanada oo dhan ayaa looga baroor diiqay dadkii ay waxyeeladu ka soo gaartay weerarkaas iyadoo shamacyo loo shiday.
In kabadan konton ruux ayaa jameecaadka cishaha ka qaybqaadanayay marka uu weerarku dhacay.
Sagaal iyo toban ruux ayaa ku dhaawacantay weerarkaas, dhamaantoodna rag ayay ahaayeen, shan ka mid ah ayaana wali isbitaalka ku jira oo dawayn u socotaa.
Mohamed Khadir oo reer Marooko ah oo weerarka loo qabtay ayaa hadda loola dhaqmayaa sidii goobjooge.
Booliiska Quebec ayaa shaaciyay magacyada dhamaan lixdii ruux ee dhimatay.
Azzeddine Soufiane oo 57 jir aha oo saddex carruur ah haystay, oo ahaa ganacsade kawaanle ah
Khaled Belkacemi oo 60 jir aha oo bare sare ka ahaa jaamacadda Laval University
Abdelkrim Hassen oo 41 jir ahaa oo saddex carruur ah dhalay, dawladda uyuu u shaqaynayay
Aboubaker Thabti, oo 44 jir ahaa, iyo labo ruux oo reer Gaana ah oo la kala dhoho, Mamadou Tanou Barry, 42 jir ahaa, iyo Ibrahima Barry oo 39 jir ahaa.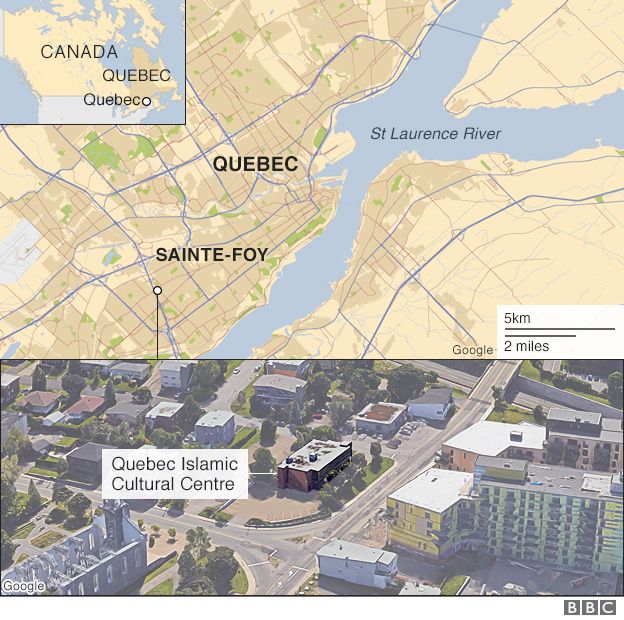 ---
Goobta ay wax ka dhaceen
Wadooyinka masaajidka agtiisa ah ayaa intooda badan la cidleeyay waxaana jooga booliis baaritaanno wada.
Noemie Roussel Paradis ayaa taagan masaajidkii dhibku ka dhacay oo cidlo ah iyada oo kitaab Quraan ah haysata. waa gabadh Muslimtay oo diinteeda ku faraxsan waxayna masaajidka u timid in ay muujiso sida ay uga xuntahay waxa dhacay.
Waxay sheegtay in dilkan iyo weerarkan uu yahay "fal argagixisanimo" inkastoo aysan masaajidkaas ku tukanin masaajidkan.
"Waa gurigii Illaahay, dhiig ayaana lagu daadiyay" ayay sii raacisay.
---
Ra'iisal wadaaraha Kanada Justin Trudeau ayaa fal argagixiso ku tilmaamay weerarka Quebec.
Ra'iisal wasaaraha oo khudbad u jeediyay in kabadan hal milyan oo Muslimiin ah oo Kanada ku nool ayaa sheegay in ay garab taagan yihiin.
Canadian Prime Minister Justin Trudeau and Quebec Premier Philippe Couillard both described the shooting as a terrorist attack.
"Soddon iyo lix milyan ayaa la dhaawacan quluubtiina. Ogaada qiimo ayaad agtanada ka leedihiin ee"
Sources;Bbcsomali